OUR HERITAGE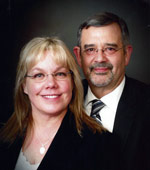 We are very excited about being able to serve families and offer a room for catered receptions following funeral, graveside and memorial services. "We realize that being the areas preference is a hard thing to earn, only because people by nature are skittish to try something new. That is why we invite you to stop by and see us and to see how comfortable our facility is."
We are available 24/7 to help comfort and care for your families, and to answer any questions about the choices you have regarding funeral or cremation services.
For Nathan and Colleen Harrison, love blossomed in a funeral home. They met the day after Colleen returned to Grays Harbor to work at Whiteside Funeral Home, where Nathan had been working.
"It's a great feeling when you meet someone and you love someone and you know you're going to spend the rest of your life with them," Nathan said.
It was a love-at-first-sight moment, but it took him a few months to ask her out (he's shy and a few years older than her). They married in late 2003 and in 2008 opened their own funeral home: Harrison Family Mortuary.
It's been a longtime dream of Colleen's to run her own funeral home. Ever since the funerals of her grandparents were handled in Montesano with such loving care when she was in college to be a nurse, Colleen felt, "I could do this and help people," she said.
She attended mortuary school at Mesa Community College in Arizona, where she lived at the time, and a few years later found her way back to the Harbor and her future husband.
For the Harrisons, the funeral business is about love, family and service.
"That's just who we are," Nathan said. They've both been caregivers in their personal lives as well, taking care of their parents, by turn, at home during their final years.
Colleen's great-grandparents settled in Aberdeen in the late 1800s. Her grandparents retired to a Montesano area farm in 1960, where they lived until their deaths in the 1980s. Colleen, who grew up in Vancouver, Wash., spent every summer with them on the farm.
Nathan's parents moved to Hoquiam after World War II. His dad died in a 1960s logging accident and his mom raised him and his brothers single-handedly.
He worked at a camp for disabled children right out of school, but went to other careers before finding his way back to a career of service 13 years ago.
"The feeling of helping people always brought warmth," he said. "We're both caregivers."
When a family loses a loved one, it is a difficult time. The Harrisons do their best to help families navigate through the paperwork and emotional challenges that accompany death.
Each family has different needs, and different budgets. A funeral director can help survivors — and individuals who choose to pre-plan their own funeral — choose the funeral that fits.
"Our goal is to make it easier," Nathan said. "When a family member gives you a hug afterward, it's a great feeling. It's wonderful."
Colleen is a licensed funeral director and licensed embalmer; Nathan is a funeral director intern and handles most of the funeral planning discussions at the funeral home. They always do house calls together.
When a family member is grieving a loved one while trying to plan a funeral, it can be difficult. That's why the Harrisons say they try to craft a tasteful funeral that fits both the personality of the deceased and the family's budget.
But caring for Harbor families goes beyond the funeral. The Harrisons enjoy visiting with families in the community — at the grocery store, post office or when people stop by to visit. Many times, the relationship developed during the funeral process continues beyond the time of need.
"We really do care about them and each person we serve," Colleen said. "We treat them like family and friends."
They did the majority of the remodeling work on their funeral home themselves and worked hard to make it a bright, modern and homelike place.
They even brought the pews from the former Trinity Lutheran Church in Aberdeen, where they were married, into the chapel.
Recently, they became the only funeral home in Grays Harbor County to be a member of Veterans & Family Memorial Care, a national organization specializing in veteran funeral care that admits only qualified members.
As part of their veteran services, the Harrisons help families navigate the federal red tape to find burial-related benefits for veterans. They also participate in several veteran-related activities each year.
For example, May is Military Appreciation Month and the Harrisons will collect unwanted cell phones to donate to soldiers. The phones are recycled and each donated phone pays for an hour of free talk time for soldiers stationed overseas.
There also is a Memorial Day balloon release, another Cell Phones for Soldiers Drive in June and July, Patriot Day observation Sept. 11, a Wreaths Across America event in October and November, Sweaters for soldiers in November and Christmas Stockings for Soldiers in November.
"Somebody needs to help our soldiers, our veterans," Colleen said. "They need to know they're appreciated and loved and somebody appreciates the sacrifices they've made for us."
Both their families have connections to the military. Colleen's grandfather and father were in the Coast Guard, her other grandfather was in the Marines and Army during World War II, her brothers served during Vietnam in the Navy, a nephew is going to retire from the Navy and her son is in the National Guard and Reserve Officer Training Corps; Nathan's father was a Navy Pearl Harbor survivor and his cousin was a Vietnam helicopter pilot.
Those personal connections helped cement their awareness of the importance of honoring loved ones in a way that helps survivors deal with their grief.