Obituary for Forrest "Frosty" Stratton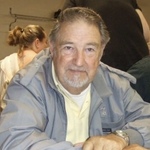 Forrest Roger Stratton of Hoquiam passed away Thursday, July 5, 2018 at Montesano Health and Rehabilitation Center. He was 80. A service with military honors will take place at 1:00 p.m. on Thursday, July 26, 2018 at Tahoma National Cemetery in Kent followed by a celebration of life at the Lutheran Church of the Cross, 23810 112th Ave. S.E. in Kent at 1:30 p.m. A complete obituary will appear in the Daily World. Arrangements are pending through Harrison Family Mortuary in Aberdeen.

Order Flowers
Affiliations


Elks Lodge


US Navy


VFW
The insignias listed here may be subject to copyright and / or trademarked. Those copyrights and trademarks are owned by the respective organizations.