Obituary for Francis "Fran" Ferguson (McPherson)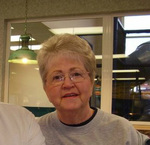 Francis Marie Ferguson, 76, of Montesano Washington, passed away on Sunday, July 2, 2017.

Born September 6, 1941, in Seattle, Washington, she was the daughter of the late Clarence and Gertrude Mcpherson of Arlington WA.

She is survived by her husband of 52 years, Bill Ferguson; son, Darrell Ferguson, and wife, Jaynie of Elma, Wa, Daughter, Sue Bartle and her Brother, Lorren Mcpherson, Three grandchildren, Cody, Dakota, Tonya, Steven, and Chris. and one great-grandchild, Payton.
Order Flowers