Obituary for Karen Olson (Bassett)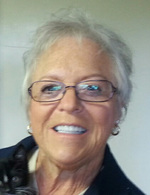 Sadly, Karen Bassett Olson passed away on May 31, 2017, following a brave battle with ovarian cancer. She was born June 30, 1947 in Elma, Washington, to Leighton and Ann (Coughran) Bassett, the only girl with four Bassett brothers.

Karen had a life very well lived. She attended elementary school in McCleary, Washington, where she met her lifelong sweetheart John. She graduated from Elma High School in 1965. On July 27, 1968, she married the love of her life John Pierre. They lived in Utah while John was stationed at Hill Air Force Base. In 1971, they returned to McCleary where they soon welcomed son Jason. In 1975, after daughter Carrie arrived, they moved to their home in Elma, where she lived until the time of her death.

Karen briefly worked for both the Internal Revenue Service and Washington State doing data entry. She also worked at Elma Flower Shop as a floral designer. Her unique gift of design, coupled with her fun, friendly personality made her a customer favorite.

Perhaps her favorite, most proud achievement was being the organizer of the Country Christmas Bazaar. It started in 1978, with her cousin Marilyn Olson, at the McCleary Community Center. As the years went by, the bazaar quickly grew and Karen decided it was time to move it to the McCleary VFW Hall and then ultimately to the Grays Harbor County Fairground Pavilion. The family was always amazed and impressed that she was able to organize this massive event. Karen took great pride in telling people about it and inviting them to come see her wonderful vendors' work. She thoroughly enjoyed the relationships and friendships that she developed with her vendors over the years.

Karen was active in the Elma community as a Campfire Blue Bird group leader, a member of all sport booster clubs that involved her kids, church fundraisers, and Elma PTA events. She organized both the Bassett Memorial Softball and Golf Tournaments to raise money to award Elma High School student athlete graduates with scholarships each year. She enjoyed gardening, camping, traveling, cooking, going to movies, and spending time with family and friends. She especially liked her "Cooking with the Kathies" sessions, monthly Bunko games, Sunday dinners with "her kids", family birthday dinners, annual Seabrook trip, and hosting all the holiday family gatherings. She was the matriarch, the hub of her family, and made every day and even the most routine events something special.

Karen is survived by her son and daughter-in-law, Jason and Missi Olson, of McCleary; daughter and son-in-law, Carrie and Travis Vessey, of Elma; mother Ann (Bassett) Einert of McCleary; brother and sister-in-law, Don and Jeanna Bassett, of San Clemente, California; brother and sister-in-law, Ken and Kelly Bassett, of Olympia; brother-in-law and sister-in-law, Ed and Debi Olson, of McCleary; brother-in-law, Bob Olson, of Olympia; numerous nieces, nephews, cousins, special friends; and her four precious grandchildren, Jayden, Kyle, and Kassedy Olson, and Grant Vessey.

She was preceded in death by her husband, John Olson; her dad, Leighton Bassett; father-in-law and mother-in-law, Oscar and Yvonne Olson; brothers Mike and Jerry Bassett; sister-in-law Wendy Bassett; nephew Austin Bassett, two infant sons Kyle Matthew and Jeremy Peter Olson; and infant grandson Greyson Vessey.

"Karen always considered their marriage, which was long and happy, and their 2 children, Jason and Carrie - the best accomplishments of her life. While Karen and John's family and friends are left to muddle through somehow, John and Karen are reunited in heaven and are positively beaming! " -Karen Olson

Services will be held on June 5th, 2017 at St. Joseph's Catholic Church in Elma at 1:00pm. Viewing will be at the church from 11:00am to 12:30pm. Graveside service to follow at the McCleary Cemetery with reception at the McCleary VFW.

Memorial donations may be made to the Bassett Memorial Scholarship Fund in care of Edward Jones in Elma.


Order Flowers
Affiliations


Camp Fire USA


Elma High School Eagles, Washington


PTA
The insignias listed here may be subject to copyright and / or trademarked. Those copyrights and trademarks are owned by the respective organizations.