Obituary for Joyce Welty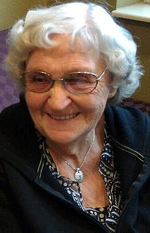 Joyce Kathrine Welty, 90, passed away on Sunday, November 6, 2016 at her Cosmopolis home. Joyce was born in Deer River, MN on October 20, 1926 to Homer and Ruby (Ludgate) King. The family moved to Minneapolis where she was raised before moving to Grays Harbor in 1940; where she attended Hoquiam schools.
 
Joyce was wed to Robert Vernon King in 1943. She then married Carlos E. Taylor, Sr. in 1949. She married the love of her life, Lawrence A. "Rusty" Welty in Raymond, WA in 1963 and moved to Kerrville, TX.
 
After living in Kerville for nearly 20 years, Joyce missed her family and moved back to Grays Harbor in 1981.
 
Joyce enjoyed camping, fishing, cooking, gardening and her neighbors. However, there was nothing she enjoyed more than spending time with her children, grandchildren, and family.
 
Joyce is survived by her son Daniel (Pam) King of Cosmopolis, WA; daughters Ruby Bennett of Aberdeen, WA and Lowanna (Tommy) Jackson of Medina, TX; sister Barbara (Mazie) Carlson (Duane) of Silverlake, WA; along with numerous nieces, nephews, grandchildren, great-grandchildren, and great-great-grandchildren.
 
She was preceded in death by her sons, Vernon Dale King and Carlos (Junior) E. Taylor Jr.; sisters Mary, Margaret (Pinky) and Goldie and brothers Calvin, Raymond, Wayne, Jerry, and Lyle.
 
At her request, a celebration of life will be held in the summer of 2017.
 
Harrison Family Mortuary of Aberdeen was honored to assist the family. To share a memory or express condolences visit
www.harrisonfamilymortuary.com.

Order Flowers