Obituary for Jeffry Newton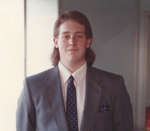 Jeffry Allen Newton of Aberdeen passed away at his home on Thursday, January 21, 2016. He was 46. Jeff was born May 22, 1969 in Richland, Washington and moved to Grays Harbor in 1983.
On March 22, 1997 Jeff married the love of his life; Georgia Reineke at Our Savior's Lutheran Church in Aberdeen. She passed away May 31, 2015.
Jeff had worked at Shuck's Auto Parts Store and also as an automotive tech. He loved fishing, playing Xbox and loved going on road trips with Georgia and their once a week dinner dates to try out new restaurants. He also enjoyed the many family gatherings throughout the years.
Jeff is survived by his mother Judy C. Moon of Aberdeen and his brother Michael Robert Newton (Cassandra Browning) of Tacoma and their daughter Amanda Judith Newton; three step children and several step-grandchildren.








Order Flowers