Obituary for Michael Roble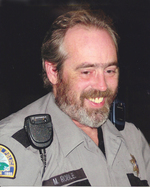 Michael S. Roble was born in April 18, 1965 in Santa Ana, Calif. to Gary and Barbara Roble. At a young age, Mike's family moved to Schofield, WI. There as a youngster he grew up on a small farm where his love for animals began. In 1978 the family moved to Montesano, where the family made their home in the upper Wynoochee Valley.
Michael graduated as a Bulldog from Montesano High School in 1983, after which he joined the Army. Upon completion of his military service, he entered local colleges, Grays Harbor, and then completing his degree at Evergreen Community.
In 1995 he was employed by the City of Aberdeen as their Animal Control Officer where he remained until his untimely death.
He survived by his parents, a brother Wyatte, nephew Colbey, nieces Alyson and Baylee Roble, Grandmother Edna Roble of Wisconsin and Aunts, Uncles and Cousins in Wisconsin, Missouri and California.
Mike is also survived by the Mc Allister Family, Jason and Melissa and their children Miya, Rosabell, Lauren, Nadiz and William and a very dear friend Ingrid.
Mike loved the country way of life, where he lived on his farm. He loved animals and loved to fish on the Wynoochee River where he felt at peace. He was a kind and gentle man and enjoyed people.
There will be a Celebration of Life Potluck on Sunday, June 10, 2018 from 2:00-4:00 at the Montesano Community Center located at 314 S. Main Street, Montesano.
Arrangements are entrusted to Harrison Family Mortuary in Montesano.



Order Flowers
Affiliations


Army


Montesano High School Bulldogs
The insignias listed here may be subject to copyright and / or trademarked. Those copyrights and trademarks are owned by the respective organizations.