Obituary for Norma Brown (Moyer)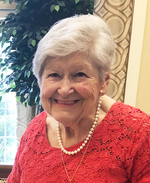 Norma Lee (Moyer) Brown of Everett passed away Monday, February 19, 2018 at Providence Regional Medical Center. She was 82. Norma was born on February 3, 1936 to Russell and Mildred (Rockwell) Moyer in Montesano, WA. She was a proud Montesano Bulldog graduate and always supported her hometown roots.

Norma enjoyed sewing, gardening, and was very artistic. She also enjoyed making dry flower portraits. She would attend events where her portraits would be on display for all to enjoy and admire.

She is survived by her sons Gregory (Joy) Brown of Queen Creek, AZ and Jeffery Brown of Mesa, AZ; 6 grandchildren; and 7 great-grandchildren.

A celebration of Norma's life will be held at 3:00 p.m. on Friday, February 23, 2018 at Brookdale Senior Living, 11333 3rd Place, West Everett, WA. She will be laid to rest at 11:00 a.m. on Saturday, February 24, 2018 at Satsop Cemetery.

To share memories or express condolences please visit www.harrisonfamilymortuary.com Harrison Family Mortuary is honored to assist the family.



Order Flowers
Affiliations


Montesano High School Bulldogs
The insignias listed here may be subject to copyright and / or trademarked. Those copyrights and trademarks are owned by the respective organizations.