Obituary for Margaret Spears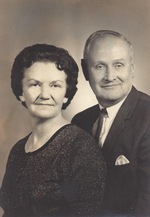 Longtime Grays Harbor City resident Margaret Eloise Spears passed away Tuesday, October 3, 2017 at Montesano Health and Rehabilitation Center. She was 96. Margaret was born on June 20, 1921 to Byron and Maggie (Brumfield) Burr in Melbourne, WA. The family then moved to Montesano where she was raised and graduated with the Bulldogs Class of 1939.

On June 4, 1941 Margaret married Ray Spears. Together they had 2 children, Brent and Karen, and celebrated 52 years of marriage before his passing in November of 1993.

Margaret had a love for music. She joined the Grays Harbor Banjo Band and became a charter member for the Old Time Fiddlers.

Margaret is survived by her children Brent (Frankie) Spears of Sequim, WA and Karen Lamb of Hoquiam, WA; 3 grandchildren; 6 great-grandchildren; and 2 great-great-grandchildren. She was preceded in death by her parents, siblings and son in-law James Lamb.

A memorial service and potluck will be held at 12:00 NOON on Wednesday, October 11, 2017 at the Central Park Neighborhood Church, 7010 Bryrwood Drive, Aberdeen. Memorials may be made to P.A.W.S of Grays Harbor, 800 West 1st Street, Aberdeen.

To share memories or express condolences please visit www.harrisonfamilymortuary.com. Harrison Family Mortuary of Aberdeen is honored to assist the family.
Order Flowers
Affiliations


Christian Cross


Christian Symbol
The insignias listed here may be subject to copyright and / or trademarked. Those copyrights and trademarks are owned by the respective organizations.