Obituary for Robert Brown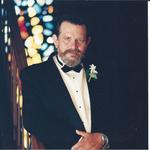 Robert Wayne Brown died at his home in Aberdeen Tuesday, July 4, 2017. Wayne was 82. Visitation will take place from 11:00 a.m. to 4:00 p.m. on Monday, July 10th in the chapel at Harrison Family Mortuary, 311 W. Market St. in Aberdeen. A graveside service with military honors will be held at 1:00 p.m. on Tuesday, July 11th at Wynooche Cemetery in Montesano followed by a celebration of Wayne's life from 2:00 to 5:00 at the Rotary Log Pavilion in Aberdeen. Funeral arrangements are entrusted to Harrison Family Mortuary of Aberdeen.
Order Flowers
Affiliations


US Navy
The insignias listed here may be subject to copyright and / or trademarked. Those copyrights and trademarks are owned by the respective organizations.