Obituary for Milton "Sam" Mallow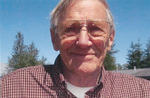 Milton "Sam" B. Mallow was born in Melbourne, WA on March 8, 1940 to Woods and Ruth (Rauch) Mallow; he died at the age of 77 on Saturday, July 1, 2017 surrounded by his family.
He graduated from Hoquiam High School in 1958. Sam joined the Navy in 1962, where he served on the U.S.S. Hamner for 4 years until 1966 with the rank of MM2-E5.
On August 20, 1966 Sam married Barbara McKenzie in St. Paul, MN. She survives him at the family home.
Sam worked at ITT Rayonier for 29 years. When the mill closed he went to work for D.S.H.S. for 13 years.
He was a member of the Elks Lodge and lifetime member of the VFW.
You could always depend on Sam for support, kindness and his wonderful smile. Always the fisherman, he loved taking his daughters and wife out in the boat. His family will be enjoying the many wood creations he made.
He was preceded in death by his parents Woods and Ruth Mallow; brothers Woodie and Charles Mallow, sister Gloria Koplin, and father and mother -in-law Harry and Dorothy McKenzie.
Sam is survived by his loving wife Barb of 50 years; daughters Annette (Adam) Locke of Lynnwood, WA and Gail Mallow of Aberdeen, WA; granddaughters Carly Mallow of Aberdeen and Samantha Locke of Lynnwood; sisters Elizabeth Connelly of Tumwater, WA, Ruth Shoemaker of Colville, WA, Shirley (Rev. Charles) Milliman of Sequim, WA, Beverly (Keith) Perry of Eugene, OR, Meredith Carl of Seattle, WA, and Marilyn (Larry) Anderson of Wenatchee, WA.
A celebration of his life will be held at 11:00 a.m., Friday, July 14th at Harrison Family Mortuary in Aberdeen followed by a reception at St. Mary parish hall with a graveside service with military honors at 3:00 p.m. at Sunset Memorial Park in Hoquiam.
Memorials may be made to: Wounded Warriors Project or Samaritan's Purse.
To share memories and sign the online guestbook please visit www.harrisonfamilymortuary.com .



Order Flowers
Affiliations


Elks Lodge


Good Conduct Medal


Hoquiam Washington Grizzlies


US Navy


VFW


Vietnam Service Medal
The insignias listed here may be subject to copyright and / or trademarked. Those copyrights and trademarks are owned by the respective organizations.