Obituary for Donald Rictor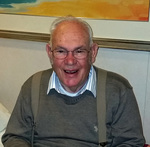 Don went Home to be with his Lord and Savior Jesus Christ on the morning of June 19th of 2017 at Grays Harbor Hospital. He is greatly missed by his large family, including his dear wife Kathleen, two daughters (Donna Davis, Connie Haskell), a son (David Rictor), six grandchildren (Kristen, Kari, Vanessa, Veronica, Angels, Chara), four great-grandchildren, his church family, and many others.

Don was born on December 16, 1934 in Corvallis, OR. He grew up with his parents and four siblings, Gary (deceased), Jeri, Gloria, and Carolyn (deceased). He served his Country by joining the Navy in 1952 and served during the Korean War. He earned the National Defense Service Medal, United Nations Service Medal, Korean Service Medal (One Star), Good Conduct Medal and was honorably discharged in 1955. Not too long after, on April 11, 1958, he married Kathleen ("Kay") in Portland, OR.

Don worked in sales, service, bookkeeping, and even raised dogs. But in 1974, he opened Don Rictor's Painting and continued until he retired in 2011.

He lived most of his life in Oregon, such as in Corvallis, St. Johns, and Portland. But in 1993, he and his wife moved to the beach town of Ocean Shores, WA. He loved the outdoors and traveling. He took his family on many road trips, and enjoyed fishing, crabbing, and being camp cook during their family camping trips. The kids and grandkids took many trips visiting Don and Kay at their beach home. While in Ocean Shores, they both especially loved and were dedicated to their church and church family at Ocean Shores Baptist Church. Both of them served very faithfully. He was committed to his faith in Jesus Christ and serving God, and he always wanted his family to share in the same decision he made as a younger man to follow Jesus with their whole hearts.

God blessed Don with his dear wife Kathleen, and they enjoyed their lives together, Even when she fell ill a few years ago, he was so determined to take care of her. He did so until shortly before his death. Even while in the hospital, his concern was for her. He loved her so…and she loves him.

Don was a beloved father, grandfather, and great grandfather. The kids knew of his great big bear hugs.

One of his favorite hymns was "I'll Fly Away"…he has flown away to glory with Jesus in Heaven. Don was a gift from God to his whole family.

Order Flowers