Obituary for Vanda Zvono (Johnson)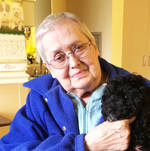 Vanda Evon Zvono of Montesano died Sunday, June 18, 2017 at Montesano Health and Rehab. She was 87. Vanda was born April 20, 1930 in Stanley, North Dakota to Melvin and Clara Johnson. She was raised in Stanley and graduated from Stanley High School in 1948.
Following graduation Vanda came to Montesano from Stanley, North Dakota to help her sister, Alice, take care of her seven children.
She married Nick Zvono in 1949. They later divorced.
She was employed at Pacific Title Company for five years and then G.H. County Assessor's office for 5 years. She was a member of the Montesano VFW Auxiliary and the local chapter of the Multiple Sclerosis Society.
She enjoyed playing BINGO and doing latch hook.
Vanda was diagnosed with Multiple Sclerosis in 1963. She was always willing to try new treatments for MS. She was a member of the local Multiple Sclerosis Chapter and was able to help so many by her strength and courage. She always told new members to keep fighting and don't ever give up.
Vanda is survived by her loving daughter: Sharry (Wally) Vincent of Montesano and one grandson; Dan Vincent of Boise, Idaho and two other grandchildren. She was preceded in death by a son Michael in 1999, her sister Alice Snow and brother Melvin Johnson.
A graveside service is planned for 11:00 a.m. on Friday, June 23rd at the Wynooche Cemetery in Montesano.
Memorials are suggested to the Greater NW Multiple Sclerosis Chapter, 192 Nickerson St. #100, Seattle, Wash. 98109.
Funeral arrangements are entrusted to Harrison Family Mortuary in Montesano. To share memories or to sign the online guestbook please visit www.harrisonfamilymortuary.com .

Order Flowers
Affiliations


VFW Auxiliary
The insignias listed here may be subject to copyright and / or trademarked. Those copyrights and trademarks are owned by the respective organizations.