Obituary for Rosalie Pierce (Hartnell)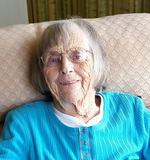 Rosalie I. Pierce was born September 14, 1922 and passed away on May 13, 2017 at the age of 94. Her loving family was by her side.
Rosalie enjoyed her work in the bowling alley in Montesano for 30 years and was still bowling at 93. She was an Eagles member for 60 years. She enjoyed flowers, yard work, embroidery, quilting and doll collecting.
Rosalie is preceded in death by her husband Jim, her son LeRoy Pullar and her sister Mae Pullar.
Rosalie is survived by her sister Ellen Zigler, her children Patsy Mathiesen (Roy), Walter Pullar (Vicky), Betty Weil (Jack), step-son Dick Pierce (Ruth Ann), numerous grandchildren, great grandchildren, nieces and nephews.
A gathering of family and friends will be held at the Wynooche Cemetery at 11:00 a.m. on Saturday, May 20, 2017. A celebration of life will follow at the Elma Eagles located at 404 W. Young St. in Elma.
In lieu of flowers you can make donations to the Montesano Volunteer Fire Department.
Arrangements are entrusted to Harrison Family Mortuary in Montesano.

Order Flowers
Affiliations


Fraternal Order of Eagles
The insignias listed here may be subject to copyright and / or trademarked. Those copyrights and trademarks are owned by the respective organizations.