Obituary for Alvin Nelson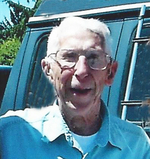 Alvin Virgil Nelson Sr. of Aberdeen passed away Tuesday, April 4, 2017 at Grays Harbor Health and Rehabilitation Center with his family by his side. Alvin was 86. Alvin was born on June 11, 1930 to Henry and Gladys (Ross) Nelson in Hoquiam, Washington. At age 16 he left school and joined the United States Navy in 1947, shortly after his 17th birthday. He proudly served as a Seaman until 1950.

During his time in the military, Alvin met and married Vernlea Collier. Together they enjoyed 52 years of marriage before her passing in June of 2002.

In 1950 Alvin returned home to Grays Harbor. He became employed with Middleton Saw Mill and then went on to drive fuel and gravel trucks for various companies. He retired from Evans Products in 1980 as a millwright and carpenter. He then spent his time tending to his yard, garage saleing, taking family vacations, and was a charter member of the South Aberdeen Baptist Church.

Alvin is survived by his son Alvin (Sonny) Nelson Jr. of Hoquiam; daughters Gerri (John) Durham and Nancy Schreck both of Aberdeen; and brothers Curtis Nelson of Grants Pass, OR and Kenny Querin of Shelton, WA. Along with granddaughter Sheila Mott (Steve) Button; great-granddaughter Cristie Mott; and special friend and caregiver Kathy McCalib.

He was preceded in death by his wife Vernlea Nelson; brother Warren Querin; and sister Charlene Jewell.

Alvin will be laid to rest at Fern Hill Cemetery in Aberdeen.

A Celebration of Life and potluck will be held at 1:00p.m. on Saturday, April 29, 2017 at the Cosmopolis Lions Club, 601 2nd, Cosmopolis. To share memories or express condolences please visit www.harrisonfamilymortuary.com. Harrison Family Mortuary of Aberdeen is honored to assist the family.
Order Flowers
Affiliations


US Navy
The insignias listed here may be subject to copyright and / or trademarked. Those copyrights and trademarks are owned by the respective organizations.