Obituary for Sally Goldsmith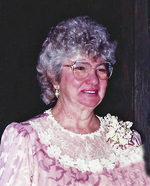 Sally Leota Goldsmith of Aberdeen passed away Tuesday, March 7, 2017 at Montesano Health and Rehabilitation Center. She was 91. Sally was born February 10, 1926 to Richard and Zana (Wilson) Jones in Hagarville, Akansas. She moved to the Grays Harbor area in 1945.

Sally is survived by son Manuel Goldsmith of Wagner, OK; daughters Sandee Sundstrom of Aberdeen, WA and Tammi Goldsmith of Elma, WA; and brother Marvin Jones of Elma, WA. Along with 4 grandchildren Jason Goldsmith, Kevin Goldsmith , Lawrence Bush, and Robert Bush; 9 great grandchildren; and 1 great-great grandchild. She was preceded in death by her parents and brother Olen Jones.

To share memories or express condolences please visit www.harrisonfamilymortuary.com. Harrison Family Mortuary of Aberdeen is honored to assist the family.

Order Flowers