Obituary for Clarence "Nook" Splinter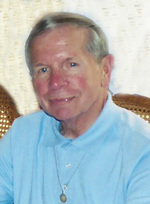 Clarence Raymond Splinter "Nook" of Hoquiam passed away Friday, February 3, 2017 at Willapa Harbor Care Center. He was 88. Clarence was born on September 1, 1928 to Raymond and Louise (Krause) Splinter in Thomas, SD. WaterTown, SD was his hometown until 1946 when he moved to the Grays Harbor area.

At the age of 22 Clarence joined the United States Army. He served 1 year as a Spray-Gun Assembler then went to work for Grays Harbor Veneer. After 44 years he retired on February 23, 1989.

On June 28, 1952 Clarence married Irene Lundbom at St. Mary's Parish House. Together they kept active in the church by volunteering for St. Mary's "Feed The Hungry" program.

Being an avid bowler, Clarence joined the Aberdeen Bowling League and played for Trineers Roofing Bowling Team. Clarence was also an Aberdeen Eagles member and proud supporter of our local Aberdeen Bobcats. The A.H.S. Athletics Department took notice and showed their appreciation by presenting Clarence with an award for his longtime support.

Clarence is survived by his wife Irene Splinter of Hoquiam, WA; daughters Cathy (Greg Reid) Strote of Damascus, OR, Sherry (Jeff) Sullivan of Yakima, WA and Julie (Steve) Lachiondo of Montesano, WA; grandchildren Michael Sullivan and Lindsey Sullivan.

He was preceded in death by his daughter Cynthia Splinter; and brothers Clifford Splinter, Howard Splinter, Harlen Splinter, and Bobbie Erdman.

A Funeral Mass will be offered at 11:00 a.m. Wednesday, February 15, 2017 at St. Mary Catholic Church preceded by the Recitation of the Rosary at 10:30. Followed by a graveside committal at Fern Hill Cemetery and a reception at St. Mary Parish Hall.

Memorials may be made to Saint Mary's Feed The Hungry Program. To share memories or express condolences please visit www.harrisonfamilymortuary.com. Harrison Family Mortuary of Aberdeen is honored to assist the family.
Order Flowers
Affiliations


Army


Army


Crucifix
The insignias listed here may be subject to copyright and / or trademarked. Those copyrights and trademarks are owned by the respective organizations.