Obituary for Linda Caldwell (May)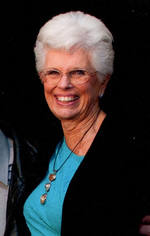 Linda Caldwell, 78, a Montesano resident for 55 years, passed away December 30th at the family home. Born October 15, 1938 in Omaha, Nebraska to the late Foster May and Marie May (Kaufman), Linda later moved with her family from Nebraska to California where she spent her teens and early adult years, eventually meeting the love of her life Charles Caldwell of Westport.

In addition to being a homemaker, Linda continued her education and became a certified medical assistant, working in Olympia for approximately 18 years and taught part time in the medical administration program at Grays Harbor College. During her lifetime, Linda devoted countless hours to community organizations such as the Montesano PTA, the City of Hope, the Orthopedic Guild, Christian Women's Club, 4-H, Girl Scouts of America and the Kelsey Foundation. She was an active member of St. Mark's Episcopal Church for many years and more recently, the First Baptist Church of Montesano. Linda was an avid crafter and received many hours of enjoyment making cards, scrapbooking and producing a yearly family calendar for all her children and grandchildren. She enjoyed genealogy and spent many years tracing her family's heritage. Linda was an accomplished equestrian and passed her love of horses on to her children and great grandchildren. She enjoyed traveling anywhere and everywhere, however, her two favorite places to spend time with family and friends were Maui and Montana.

Linda is survived at the family home by her husband of 61 years, Charles Caldwell, a son Steve Caldwell (Shannon) of Montesano, three daughters, Loni Crass (Steve), Kim Lillegard (Harvey), Michelle Jewell of Montesano and sister-in-law Renee Caldwell of Westport. Linda is also survived by 12 grandchildren and 20 great-grandchildren.

A memorial service will be held January 6th at the Church of God in Montesano at 11:00 a.m. followed by a celebration of life at the Montesano Moose Lodge from 1:00-4:00. In lieu of flowers, the family requests donations to be made to the Montesano Volunteer Fire Department.



Order Flowers
Affiliations


Baptist Church


Episcopal Church


PTA
The insignias listed here may be subject to copyright and / or trademarked. Those copyrights and trademarks are owned by the respective organizations.