Obituary for Helen Turner (Alwood)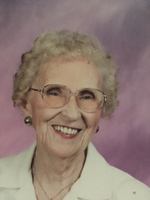 Virginia Helen Turner, 100-years-old, passed away peacefully at her home on Tuesday, December 27, 2016 with her daughters at her bedside. She lived an amazingly gracious life full of love, faith, compassion and caring for the family and friends that surrounded her. Despite her age and struggling to overcome recent health setbacks, Helen continued to maintain a positive and bright spirit.

Helen was born February 7, 1916 in Edgerton, Alberta, Canada to David "Will" and Lerah (Hammock) Alwood. Helen was the oldest of 4 children and she was preceded in death by her two sisters, Delilah Omdal and Vera Bullo and her brother James Alwood.

The family moved to the Skagit Valley in 1924 until job losses from the Great Depression prompted another move to Aberdeen in 1932 where Will was hired at a timber mill.

After graduating from Weatherwax High School in 1935 and working at Kress Department Store, she married Charles O. Turner in Aberdeen on December 26, 1935. Together they owned and operated several local businesses including Turner Service Station on Wishkah Road, Turner Packing Company, Turner Building Supply and the Mixer Market. Helen successfully maintained the bookkeeping and quality control for all their businesses.

The couple retired in Tacoma while also enjoying the winter months in Palm Springs among lifelong friends and frequent family visitors. There, they celebrated their 50th wedding anniversary together in 1985. With Charlie's failing health, he passed away that next year.

Helen loved cooking and entertaining and was an unforgettable host of numerous gatherings and guests. She was known for her generosity and graciousness in giving back and supporting her family, friends and community in generous and life-changing ways. Helen had a very welcoming nature and ability to bring out the best in those around her.

Helen was past Noble Grand of Rebekah Lodge, Zonta club member, a member of the Central Park Methodist Church, frequent hospital volunteer and participated in the Seattle Orthopedic Guild in Palm Springs. She enjoyed Square Dancing with friends Dorothy and Raymond Mann in addition to digging razor clams along the Washington Coast.

Helen is survived by loving daughters Joan E. Turner of Aberdeen and Patricia (Larry) Warwick of Tacoma; two grandchildren, Marlo (Jason) Hirl and Markus (Erica) Warwick and two great grandchildren, Elliot and Sam Hirl. She was preceded in death by her husband, parents and her three siblings mentioned above.

Helen will be remembered as a wonderful Wife, Sister, Aunt, Cousin, Mother, Grandmother, Great-Grandmother and Friend. The family is deeply grateful for the outpouring of love, prayers, and support.

A special thank you and acknowledgement to Dr. Shelly Dueber and her caregivers, Barbara Whitney and Barbara Peterson for their dedication, care, kindness and comfort they provided Helen over the last several years.

Memorials may be made to Saint Mary School in Aberdeen or the Union Gospel Mission of Grays Harbor.

Services are being planned and will be announced as soon as details become available.

To share memories and leave condolences for her family please visit www.harrisonfamilymortuary.com. Arrangements are entrusted to Harrison Family Mortuary in Aberdeen.


Order Flowers
Affiliations


Rebekahs


United Methodist Church


Weatherwax High School Bobcats


Zonta International
The insignias listed here may be subject to copyright and / or trademarked. Those copyrights and trademarks are owned by the respective organizations.