Obituary for Arlene Rikalo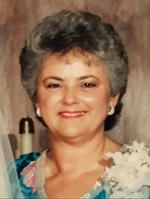 Arlene J. Rikalo

Lifelong Aberdeen resident Arlene Joy Rikalo died Sunday, November 27, 2016 with her family at her side. She was born on November 10, 1937 and was the eldest child of Paul and Emma (Dragecevich) Randich. She endured a lengthy illness with grace and dignity.
She attended Aberdeen schools and was a 1956 graduate of J. M. Weatherwax High School. On October 12, 1957, she married Samuel Rikalo at St. Mary Church. Together they raised two daughters. He passed away on April 20, 1975. Arlene was an attentive daughter, a loving wife and mother, a protective sister and a doting grandmother. She dispensed her wisdom freely with a warm smile and a knowing nod. Along with her family, she cherished her Croatian heritage.
She knew the value of work and enjoyed countless hours of volunteering at St. Joseph Hospital, the Grays Harbor Clothing Bank and at St. Mary Church. She treasured her years working at Bryan & Son Jewelers. The highlight of her work outside the home was turning fellow volunteers and customers into friends.
Mrs. Rikalo's memberships included St. Mary Church and Preceptor Omicron Chapter of Beta Sigma Phi. She was the epitome of a gracious hostess and entertained often at her home and at the family cabin at Tokeland. Her gardening abilities were endless. She seldom missed a televised Mariner or Seahawk game and followed the athletic programs of the UW Huskies and WSU Cougars with determination.
She is survived by her daughters Debra Cotter (Bill) and Jody Gerber (Doug), grandchildren Sam Cotter, William Cotter, Mary Gerber and John Gerber and her sisters Theresa Hartsoch and Marian (Phil) Fitterer. Additional survivors include her aunt Eva Cuculich, several nieces, a nephew and a host of relatives from the extended Randich and Dragecevich families.
A Funeral Mass will be offered at 1:00 p.m. on Thursday, December 1, 2016 at St. Mary Church preceded by the Recitation of the Rosary at 12:30. A private, invited family members only, committal service will take place at Fern Hill Cemetery. Funeral arrangements are under the direction of Harrison Family Mortuary. Her family would greatly appreciate donations in her memory to St. Mary School, 518 North H Street, in Aberdeen.



Order Flowers
Affiliations


Crucifix


University of Washington


Washington State University


Weatherwax High School Bobcats
The insignias listed here may be subject to copyright and / or trademarked. Those copyrights and trademarks are owned by the respective organizations.