Obituary for Linda Cahoon (Barber)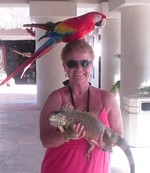 Linda Joyce Cahoon of Hoquiam passed away Thursday, July 28, 2016 at the University of Washington Medical Center in Seattle. She was 70. Linda was born July 12, 1946 in Long Beach, California to Louis and Prudy (McDugald) Barber.
On October 27, 1964 Linda married Roark N. Cahoon; he survives her at the family home.
In addition to her loving husband of 52 years, she is also survived by her daughters, Jaynie L. Cahoon of Copalis Beach and Mae E. Crider of Ocean Shores; a brother Ronald Barber and a sister Jodie Addy and four grandchildren, Katrina Cahoon VanGundy, Chris Cahoon, Kayla and Mitch Crider; four great-grandchildren, Randy Gunter, Aiden Hastings, Mikyla Gunter and Nicole Dewald.
Linda was preceded in death by her parents Louis and Prudy Barber, her brothers Louis Jr., Bruce and Rod Barber, her sisters Bertha Lemond, Lolita and Roberta Barber and also her beloved macaw "Salty".
To sign the online book of memories please visit www.harrisonfamilymortuary.com . Arrangements are entrusted to Harrison Family Mortuary of Aberdeen.



Order Flowers