Obituary for David Luark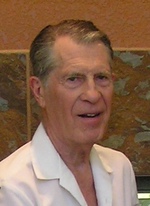 David Luark passed away at Montesano Health and Rehab Center, on May 10th, 2016 in Montesano, Washington due to complications from a stroke. He was born on September 13, 1932 to Erwin and Bessie (Willis) Luark in Montesano, Washington. David's birth certificate listed "Off road East So. Montesano", as the official location of birth. As David obtained his official birth certificate after his parents passed away, the story behind the roadway birth remains a mystery.
David was a descendent of Patterson Luark, one of the early Grays Harbor pioneers who traveled from Indiana over the Oregon Trail to the Pacific Northwest in 1853. David was raised in Melbourne south of Montesano, near Patterson Luark's 1858 homestead.
David graduated from Montesano High School in 1950, after which he attended Grays Harbor College, graduating with an associate's degree. He met Donna Arnold in 1951 and they married on June 6, 1952. Their first permanent home was on 120 acres located on Black Creek, a tributary to the Wynoochee River. They moved to Central Park in 1959 to raise their family and moved back to the Black Creek property in the 1990's to develop a secluded homestead in the woods.
David's occupations varied, ranging from working in the woods to tending bar. When first married, he worked in the woods with his father logging. He then worked for Weyerhaeuser, starting as a tree planter, then working in the lab, and later becoming a computer programmer at the Cosmopolis pulp mill. When Weyerhaeuser decided to move computer programing to a central location in Tacoma, David decided to stay on the Harbor, buying the Up and Up Tavern in Aberdeen, which he operated with Donna, his business partner, from 1972 to 1978. After retiring from the tavern, David and Donna purchased Columbia Box, a specialty wood manufacturing plant, which they moved from Aberdeen to Elma and operated until their retirement in the 1990's.
David was an avid chess player and member of the Grays Harbor Chess Club. Hobbies included raising a large vegetable garden, berries, and various fruit trees. David also enjoyed tending his tree farm on the Black Creek property. Another favorite activity of David's was playing pinochle at family gatherings.
David was always confident, had an opinion on any subject, and was never at a loss for words. He had a sharp mind and keen intellect, and volunteered as a grade school tutor for the Montesano public schools.
David is survived by his wife Donna, daughter Pamela Ames (Steve) of Olympia, daughter Judy Bennett of Montesano, son Richard Luark (Carolyn) of Kirkland, two grandchildren, two great grandchildren, brother James Luark, sister Laura Boyer and sister Sally Adams (Jim).
David was preceded in death by his parents and brothers Gerald and Russell.
The details of a gathering to celebrate David's life will be posted at www.harrisonfamilymortuary.com
This is also where a message of condolence or a memory can be sent to the family.

Order Flowers