Obituary for James Kirk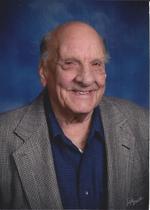 Jim passed away Tuesday, May 10, 2016, due to a massive stroke, with his fiance, Wilma Cornwall at his side. Jim was 91 years young.
Jim loved the Lord, his family, his country, and he loved to read. Jim had a full interesting life. Service in the Army National Guard, Merchant Marines and Navy, taking part of the invasion of Inchon, working in the manufacturing division of Chrysler in his hometown of Detroit, Aerojet programmer, Vaudeville, Radio City Music Hall, USO, Latin Quarter, Apoll Theater. Jim sang light opera.
Jim loved Jazz. Jim loved to play cards, poker with his men friends at the VFW and Gin Rummy with Wilma. He was so proud to be a Mason, as his father was, also membership in the Knights of Columbus, VFW, Shriners, America n Legion and the Montesano Presbyterian Church.
Finally becoming a real estate investor, his last project was opening Papa Mia's Pizzeria in Elma.
He loved to watch the clouds and see if he could make out a face or other object. The first Bromeliads Jim saw fascinated him and he had eight or ten on his coffee table.
He and his wife Peggy were married 43 years and Jim had eight children from two marriages, Cheryl, Lynell, Tony, John, Heidi, Paul, Heather and Christina. Peggy passed away in 2012.
Jim was generous, loved people; always making a point of remembering their names.
Jim started seeing Wilma in 2014 and says "She's my little redhead," "I call her Willie".
Jim is also known as Captain Kirk.
His funeral service will be Wednesday, May 18, at 1 p.m. at the Montesano Presbyterian Church. There will be a military graveside service following.

Order Flowers