Obituary for Junior "Big Bud" Downey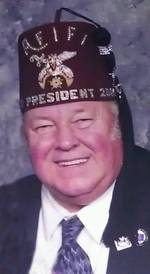 We have lost our beloved father Junior H. Downey "Big Bud"; he passed away at his home on Monday, May 2, 2016. He was 78. He has now joined the love of his life Eileen P. Brown Downey who preceded him in death in April 2010.
He lived in Elma his entire life and graduated from Oakville High School in 1957. He had worked as a log truck/chip truck driver for many years. Junior was a long time member of the Elma Eagles and the Sharon Grange. He was an active member of the Masonic Lodge in Montesano, Scottish Rite and Afifi Shriners and loved by all who knew him.
Junior is survived by his two children Cindy L. Downey-Becker of Spokane and Rodney H. Downey of Elma and also a brother Toby (Gloria) Downey of Creswell, Oregon.
In addition to his wife Eileen he is also preceded in death by his parents Vern and Carrie Downey.
A Masonic Ceremony will begin at 11:00 a.m. on Thursday, May 26th at the Elma Eagles followed by a celebration of his life.
In lieu of flowers please make donations to: Afifi Shriners Hospital Patient Transportation Fund, 815 E. Vassault Street, Tacoma, Washington 98465 or to the Elma Eagles.
Cremation arrangements are entrusted to Harrison Family Mortuary in Aberdeen.



Order Flowers
Affiliations


Army


Fraternal Order of Eagles


Masonic Lodge


Shriners


US Army
The insignias listed here may be subject to copyright and / or trademarked. Those copyrights and trademarks are owned by the respective organizations.