Obituary for Mary Kimmerly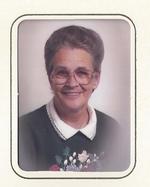 MADAM PRESIDENT:
We are met today to pay our last tribute of love and respect to a member of our community and our lives, Mary Kimmerly. It is fitting that we should participate in this sad ceremony, for Death will come to each of us.

But the Star of Faith pierces the clouds of Death. That Star, across the centuries, has comforted men and women in its assurance that there shall be a reunion in the life beyond the grave.

Each of us treads a different path in the forests and meadows of life. But all paths converge at the edge of the Eternal Sea – Death. None of us, no matter where the paths of life may run, can escape coming ultimately to the Mystic Sea of Death and embarking upon its changeless surface for the distant unseen shore.

Those of us assembled here today, find comfort in the belief that this loved one is separated from us by a few years only. The promises given in the Book of Books will support those that miss her most.

Never again on earth shall Mary hear our helpful and impressive lectures on Home and Country and God. But in a happier life she will number among her blessings the lot that let her be one of us. That let her strive with us to live up to the ideals taught by our Ritual.
Tired with the weight of what she had to bear, she has lain down to rest. She knows now, 'There is no death - there is only a pause that we mortals call Death before waking into Life Eternal.

The grave is but the resting place of a body that has lost the spirit which used it for a while. Each of us has difficulty in accepting the fact that the spirit of our beloved is gone. Yet, men and women, made in the image of God, to whom He promised an eternal spiritual life, can enter into such bliss only through the doors that we call Death.

In every normal being there is the yearning for a life beyond the grave. We that believe in God find, in the promises of the Book of Books, the courage to walk trustingly along the path of Faith on our way to the Inevitable.

If these unresponsive lips could speak, they would urge us not to cry, but to rejoice. They would tell us that the years which seem so long, in the calendar of earthly time, are indeed but seconds in the measure of Eternity, that Death is but a passing into Life Eternal.

MARY KIMMERLY

On May 17, 1932, Warren and Anna Kingery of Eugene, Oregon, welcomed their first child into their family, Mary. She was later joined by 3 brothers and 3 sisters. The family moved to Matlock where Mary graduated from High School.
Mary married Lloyd Kimmerly on May 30, 1952 and they had 5 children, 3 daughters and 2 sons.
Mary was a Charter Member of the Ocean Shores Eagles Auxiliary, joining on February 27, 1988, and later transferred to Elma Auxiliary. She was a 28-year member. Mary attended meetings and helped whenever she was asked.
Mary was also very active in the various Pool Leagues, even though I understand that she did not start playing until she was 50. She had served as the Washington State Eagles Pool League Chairman, and was active in Grays Harbor Women's Pool League, Senior Pool League as well as Grays Harbor Mixed Doubles. She also played pool in the Meat Shoots and other 'put together' tournaments we have. She also played in the monthly Cribbage Tournaments.

Mary is survived by:
Her Sister: Ruth Sanders
Her Brothers: Earl and Orlen Kingery
Her daughters: Donna Dotson; Laura McAllister; and Kelly Hines;
Her sons: John and Danny Kimmerly.
She also leaves behind 16 grandchildren, 36 great grandchildren and 3 great-great grandchildren.
Her sisters, Evelyn Burger and Esther Hoyt as well as her Brother Paul Kingery passed before her.

At this I would like to ask if anyone would like to speak and share a memory. [MEMORY SHARING]

MADAM CHAPLAIN:

Let us pray.

Dear Father, in this hour of grief, we come to Thee to be comforted. Hear our prayers as we pay tribute to Mary, who has passed out of the shadows of life.

We humbly ask that this dear one may be in the glory of Thy presence. Strengthen the hearts of those that are dear to her in the belief that she is happier now than while struggling against the problems of life.

A few hours ago this dear one, through eyes that are forever closed, saw us. Through lips that are forever mute, she spoke to us. And the spirit that dwelt in this body was of us. Now, the eyes and lips are serenely quiet. The spirit has left its house of clay to abide forever in the Eternal Home that Thou has prepared.

Let Thy Presence abide with this family. Let those of us who were associated with her carry out Thy will. Let each of us resolve to live more worthily and to follow more resolutely our Sisterhood's teachings to live for Home, for Country and for God.

Thus, from this hour of sorrow, shall come the courage to face bravely the days or years that lie before each of us. So through Faith and not through fear, shall we meet the hour when, like this friend and Sister, we shall rest in the infinite love of God. Amen.

MADAM PRESIDENT:

This something that I like to share with friends and family when someone we love passes on and I would like to share it with you. It is called:

'A Letter from Heaven'

To my dearest family and friends,
some things I would like to say.
But first of all, to let you know, that I arrived okay.
I'm writing this from heaven. Here I dwell with God above.
Here, there are no more tears of sadness; here is just eternal love.
Please do not be unhappy just because I'm out of sight.
Remember that I am with you every morning, noon, and night.
That day I had to leave you when my life on earth was through.
God picked me up and hugged me and He said,
'I welcome you. It's good to have you back again;
you were missed while you were gone.
As for your dearest family and friends,
they'll be here later on.
God gave me a list of things that He wished for me to do
And foremost on the list, was to watch and care for you.
And when you lie in bed at night, the day's chores put to flight,
God and I are closest to you … in the middle of the night.
When you think of my life on earth, and all those loving years,
because you are only human, they are bound to bring you tears.
But do not be afraid to cry, it does relieve the pain.
Remember there would be no flowers, unless there was some rain.
I wish that I could tell you all that God has planned
But if I were to tell you, you wouldn't understand.
But one thing is for certain, though my life on earth is o'er
I am closer to you now, than I ever was before.
There are many rocky roads ahead of you and many hills to climb,
But together we can do it by taking one day at a time.
It was always my philosophy and I would like it for you too:
'That as you give unto the world, the world will give to you.'

If you can help somebody who's in sorrow and pain;
Then you can say to God at night… 'My day was not in vain.'
And now I am contented … that my life was worthwhile.
Knowing as I passed along the way I made somebody smile.
So if you meet somebody who is sad and feeling low;
Just lend a hand to pick him up, as on your way you go.
When you're walking down the street and you've got me on your mind;
I'm walking in your footsteps only half a step behind.
And when it's time for you to go … from that body to be free,
Remember you're not going… you're coming here to me.

P.S. By the way the slots here are heavenly!!


MADAM PRESIDENT: (Charlene Butterfield, Elma Eagles)
Of this dear one, let us remember only that which has been kind, and unselfish, and good. Let us think of her not as one who is forever gone, but as one from whom we are parted for just a little while.

Sister, it is written that each of us must come to sleep with you. Bless, dear God, those who are present and those who are absent.

This concludes the ceremony and we ask that you stay and enjoy the memories of our Mary and enjoy the fellowship that the day brings.


Order Flowers