Obituary for Edward Dombroski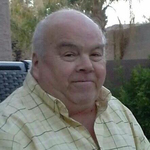 Edward James Dombroski, a longtime harbor resident, passed away on March 7, 2016 in Aberdeen, WA. He was 72. He was born on October 6, 1943 to Edward and Margie (Glick) Dombroski in Portland, OR and was raised in Aberdeen, WA. He graduated from Aberdeen Weatherwax High School in 1963.
On January 15, 1965, he married Shelia Marx. She survives him at the family home.
Ed worked for Poseys for 35 years, and worked for Mary's River Lumber for 12 years.
In addition to his wife, Ed is survived by his sons Kenneth, of Hoquiam, WA; Rick (Shawnie) of Elma, WA; and Rocky (Kerri) of Gilbert, AZ. Daughter Alyce Dombroski-Romash of Seattle, WA. Grandchildren Jason, Justine, Racheal, Jared, Hailey, Eric, Jagger, Ryder, great grandchildren Rafe and Brooke; other family members Sherry Crocker of Aberdeen, WA and Jerry (Midge) Bednarik of Aberdeen, WA. He is also survived by life-long friends Jane and Jerry Madtson
Ed was preceded in death by his daughter in law Cheryl Dombroski.
A Celebration of Life is planned for Saturday, April 9, 2016 at 1:00 PM at the Aberdeen Eagles: 208 W Market St, Aberdeen, WA 98520.
To sign the online book of memories for Ed please visit www.harrisonfamilymortuary.com. Arrangements are entrusted to Harrison Family Mortuary of Aberdeen.



Order Flowers
Affiliations


Weatherwax High School Bobcats
The insignias listed here may be subject to copyright and / or trademarked. Those copyrights and trademarks are owned by the respective organizations.