Obituary for Gordon "Gordy" Quarles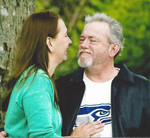 Gordon Charles Quarles of Aberdeen passed away at his home in Aberdeen on Thursday, July 24, 2014 with his wife Rachelle by his side. Gordy was born January 27, 1958 in Enumclaw, WA to Charles and Edith (Eddy) Quarles. In 1989 he moved to Aberdeen from Black Diamond.
On June 3, 1995 Gordy married Rachelle Perov in Aberdeen. She survives him at the family home.
Gordy drove log trucks for 35 years for various companies. He enjoyed hunting, fishing and camping, spending time with family and grandkids, he also loved gardening.
In addition to his loving wife Rachelle he also survived by two sons, Jesse of Lacey, Randy of Montesano and three daughters, Natasha Calica of Aberdeen, Stacey Quarles of Hoquiam and Felicia Calica of Shelton and 11 grandchildren.
There will be a celebration of his life held at a later date.

Order Flowers