Obituary for Dolores "Dee" Vanderschuere (Green)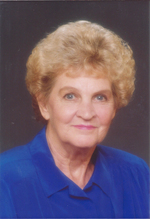 Dolores Elizabeth Vanderschuere was born on September 28, 1924, in Shakopee, Minnesota to Henry Green and Ella Helena Green. She graduated from Shakopee High School and attended some college when she decided to move to southern California where she resided until the late 1950's. She moved to southern Oregon and later to Western Washington, Kailua, Hawaii and most recently to Montesano and Elma Washington.
She was married to Lester Voss in the early 1950's. They divorced in 1972. She later married Charles Vanderschuere of Elma, Washington.
Dolores's working career was predomitely in the real estate field where she sold real estate in Grays Harbor, Olympia and Kailua, Hawaii.
She was very inventive, always trying to design, formulate or create something to better the lives of others. She was very active in playing cards, bingo, bowling, knitting, and painting most of her life. She was known for her sense of humor which everyone loved. But mostly she loved to share stories about her nine children whom she loved so very much.
She was preceded in death by her husband Charles (2012) mother, father, son Corey Voss (2006), grandson Adam Hester (1986) granddaughter in law Tabitha Kowal (2012). She is survived by her daughters Ruth Shah of Chicago, Candace Raher of Seattle, Lorrie Walsh and Janice Voss of Aberdeen, Denise Anderson of Montesano. Her sons Steven Voss of Copalis, David Voss of Aberdeen and Jay Voss of Kailua, Hi, and 20 grandchildren and 7 great grandchildren.
A private family celebration will be held in Montesano.
Contributions may be sent in Dolores's name to the Bee Hive Retirement Center in McCleary, Wash. or PAWS of Aberdeen.





Order Flowers
Affiliations


Fraternal Order of Eagles Auxiliary
The insignias listed here may be subject to copyright and / or trademarked. Those copyrights and trademarks are owned by the respective organizations.