Obituary for Lawrence "Larry" Quinn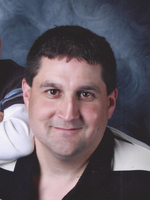 On Tuesday, July 30, Larry Robert Quinn, 47, unexpectedly passed away. Born on April 6, 1966 at Aberdeen St. Joseph Hospital, Larry was a lifelong resident of Montesano.
A graduate of Montesano High School in 1984, he was a member of the 1983 State Championship Football Team. In 2007 he was inducted into the Montesano Hall of Fame. He attended Grays Harbor College and Central Washington University. On February 14, 1993 he married Renée Richardson in Reno, Nevada.
Larry worked as a project manager for Lakeside Industries. He wore many hats and was a driving force behind Aberdeen Lakeside for 26 years.
A loving and supportive husband, father, and son, he loved spending time with his family. He started each day for the past thirty years with a cup of coffee at his parents. He spent countless hours playing catch and one on one basketball with his kids, as well as coaching youth sports. In doing so, he became an inspirational mentor.
He also enjoyed playing men's softball, basketball, golf, and tennis with his buddies, video games, watching movies, and landscaping. Being an animal lover, Larry adored the family pets.
Larry is survived by his wife Renée and his three children, Lyndsy (17), Hannah (14), and Noah (14) of the family home. He is also survived by his parents Bob and Maxine Quinn of Montesano and two sisters, Suzie Jones (Tony) of Laurel, Maryland and Dianne Quinn of Montesano. In addition, he leaves behind numerous nephews, nieces, cousins, and many, many friends.
Larry will be laid to rest overlooking his childhood home in the Satsop cemetery. He was loved by many and will be deeply missed by his family and friends.
An education fund is set up at Timberland Bank for Larry's three children.
Visitation will be held from 11:00 a.m. to 7:00 p.m. on Friday, August 9th in the chapel at Harrison Family Mortuary located at 311 W. Market St. in Aberdeen. A funeral service will take place at 12 noon on Saturday, August 10th in the Montesano High School Gym followed by a reception across the street in the high school commons.


Order Flowers
Affiliations


Cental Washington University


Grays Harbor College Chokers


Montesano High School Bulldogs
The insignias listed here may be subject to copyright and / or trademarked. Those copyrights and trademarks are owned by the respective organizations.