Obituary for Delia Zillyett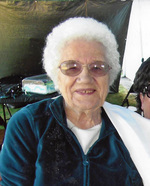 Delia Ellen (Baker) Zillyett, 95, passed away peacefully in her sleep on March 24, 2013 in Montesano. She was born on July 28, 1917 in Osakis, Minnesota, to Daniel and Rosa Baker, the eighth of twelve children and the last survivor of all twelve siblings.

As a young child, Delia moved with the family from Minnesota to Wisconsin, where she was raised on a farm. The family later relocated to Oakville, Washington.

She married Clarence "Blackie" Zillyett in Oakville, Washington on October 22, 1938; he preceded her death in October, 1981. They moved to Schafer Camp in 1950, where Blackie worked as a mechanic, and Delia was a homemaker. They relocated to Montesano in 1951, where they raised their family.

They had five children, four surviving in Montesano, LaVern (Dee) Zillyett, Marvin (Vicki) Zillyett, Carolyn Randall, Edwin (Sharon) Zillyett, and Darlene who passed away shortly after birth. Delia is also survived by a special nephew Mike (Cyndi) Zillyett of Shelton, who was raised by Delia since he was a small boy.

Delia had many hobbies and interests. She was an avid crocheter and quilter. She loved to can her own vegetables and fruits that she loved to share with her family and friends. Not only did she share her finished products with others, she also shared her many talents with her granddaughters and their friends. Delia really enjoyed going to the local grade school and teaching children to sew and quilt. Still spunky at the age of 80, she was on a bowling team. She also enjoyed taking ceramics class from one of her nieces. You could always find her in her jeans and KEDS!

One of her greatest joys was spending time with her grandchildren, whether it was camping, teaching them how to play checkers (never letting them win!), attending sporting events, playing tetherball (in her 80's!), and sleepovers. She was loved and cherished by all - and was known as "Grandma" by many.

In addition to her children, Delia is survived by 9 grandchildren: Connie Smith, Jody Harper, Teri Zillyett, Lori Waybright, Tonya Ashlock, Kim Jacobs, Jay Zillyett, Kelly Bagnell, and Nicole Zillyett; and 14 great grandchildren.

The family would like to pay special thanks to the staff at both Westhaven Villas in Aberdeen and Montesano Health & Rehab for their special care and compassion.

A 'Celebration of Life' will be held at the Montesano Moose Lodge, 3 Monte Elma Road, on April 20, 2013 at 1:00-4:00 p.m.

Memorial contributions may be made to the Montesano "Volunteer" Fire Dept.

Order Flowers