Obituary for DuWayne "Dewey" Van Dinter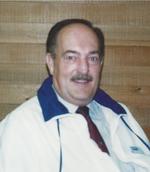 DuWayne "Dewey" Arnold Van Dinter passed away at his home in Hoquiam on Monday, March 19, 2012. He was born September 5, 1937 in Kelso, WA to Willard and Gladys (Sachs) Van Dinter.
Dewey graduated from Kelso High School in 1955 and from Eastern Washington University in 1959. He taught at Grand Coulee for two years and moved to Aberdeen in 1961 and taught and coached at Aberdeen High School for 30 years. Dewey coached football, wrestling and girls' softball. He was inducted into Wresting Coaches Hall of Fame. Dewey was also a member of the Aberdeen Elks and had also sold real estate and worked at the Aberdeen Eagles as secretary for several years where he was also past president. Dewey enjoyed golfing, spending time with his family, going to the casino and playing softball.
Dewey married Janet Mitchell and they had three children, David, Scott and Lesli. They later divorced. On Jan. 1, 1988 he married Nancy Windsnes, she survives him at the family home.
In addition to his wife Nancy, Dewey is survived by his son Scott of Ramona, Calif., daughter Lesli Lotton of Olympia; step daughters, Tina, Tara and Tanya all of Aberdeen; brothers Daryl of Graham, WA; Raymond of Woodland, WA and sister Dorothy Johnson of Longview; numerous grandchildren, great grandchildren, nieces and nephews. He has raised grandchildren Chloe and Cruise for the last eight years. He was preceded in death by his son David, brother William and a sister Elaine.
A celebration of his life will be held at 1:00 p.m. on Saturday, March 31st at the Aberdeen Eagles. In lieu of flowers the family suggests donations to Relay for Life Cancer Walk.



Order Flowers
Affiliations


Eastern Washington University


Elks Lodge


Fraternal Order of Eagles


Weatherwax High School Bobcats
The insignias listed here may be subject to copyright and / or trademarked. Those copyrights and trademarks are owned by the respective organizations.